What a title eh? Well, whatever.
American Girl recently released some things that I was semi-excited for. Like 4 months ago YouTube got swamped with videos of girls unboxing this stuff, hours after it was released. I think it's just the lucky people who are sponsored by AG or something. If only. *sighs*
So I'm going to give you my honest review on this stuff. I've made a couple other blog posts like this, so you can check them out here and here. Waste or worth your money as I'll put it.
Truly Me #80- 120$
I know a lot of girls have been pushing for a black doll with long hair that isn't curled. So when she was released, I imagine she was snatched off the shelf pretty quickly. Personally, I think she's really pretty, but I wouldn't buy her because I'd rather have the one with curly hair. But she's worth your money all black skinned beauties.
Volcano Set- 30$
I think the set is really inventive and could make a good prop if you wanted. But I think it'd be cooler if you made a doll-sized volcano out of paper mache. And for all the people that are thinking, why spend the time for a prop in the background. Then I'd have an awesome comeback for all you doubters. Why do you need to spend 30 bucks on a background prop? I just think 30 dollars is a bit much for that little of the stuff. So yea, it's a waste of money.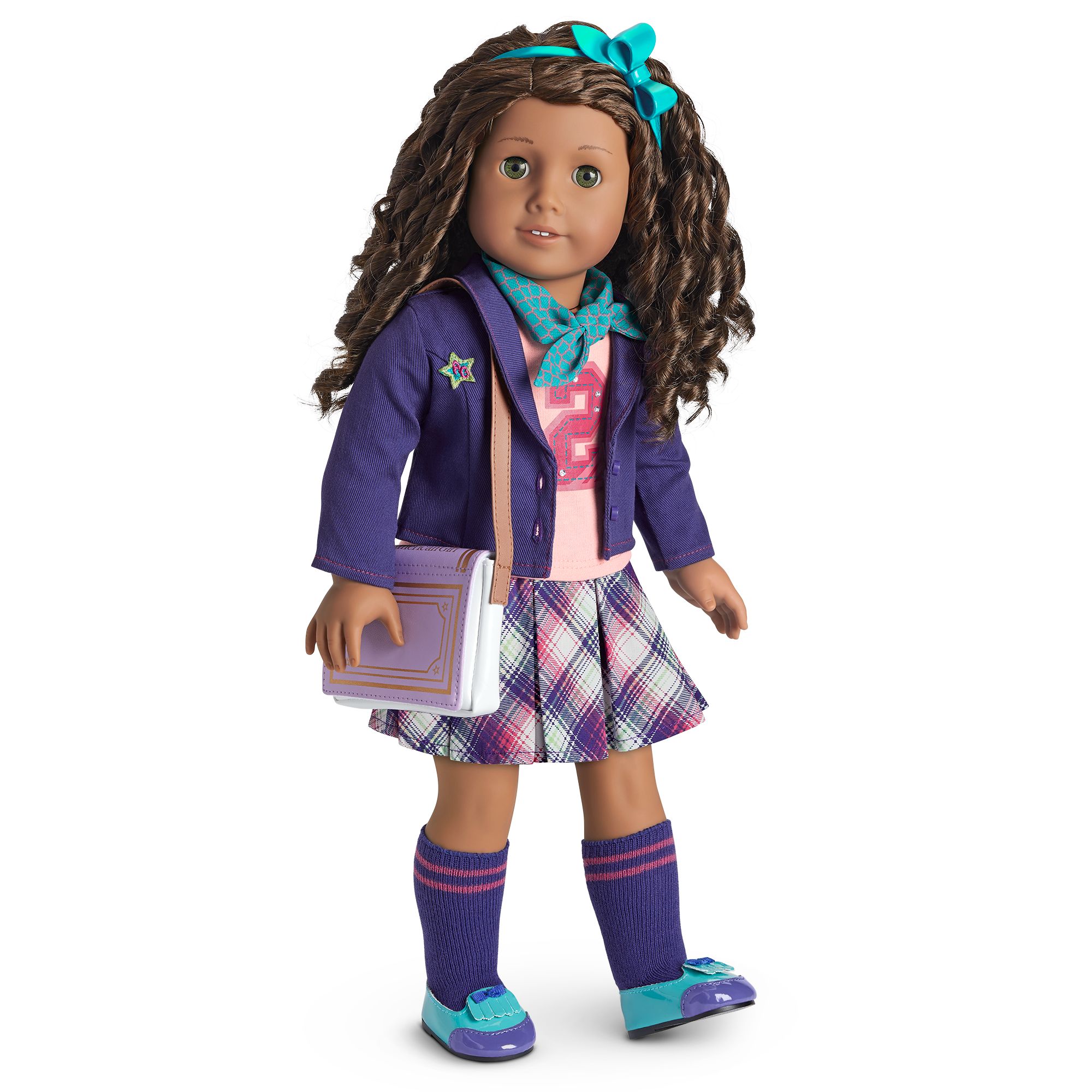 Ready to Learn outfit- 34$
First off, I like the colour scheme they have going on but I don't think that is what a teenager will wear on the first day of school. I mean, the flats and socks aren't the best matches, but separately they'd look nice. The bag she has looks really cute and does her skirt, but it looks like she's heading to work, not going to a prep school for British tea lovers. Though it's still worth your money considering all the pieces you get.
RC Sports Car- 210$
First off, I think the idea is cool and all, but it seems like a waste of money. I mean, 210 dollars is an odd amount to sell the car for and it looks plastic. I've seen cheaper and cuter doll cares from other stores that hold more dolls for cheaper. So I'd say this is a waste of your money.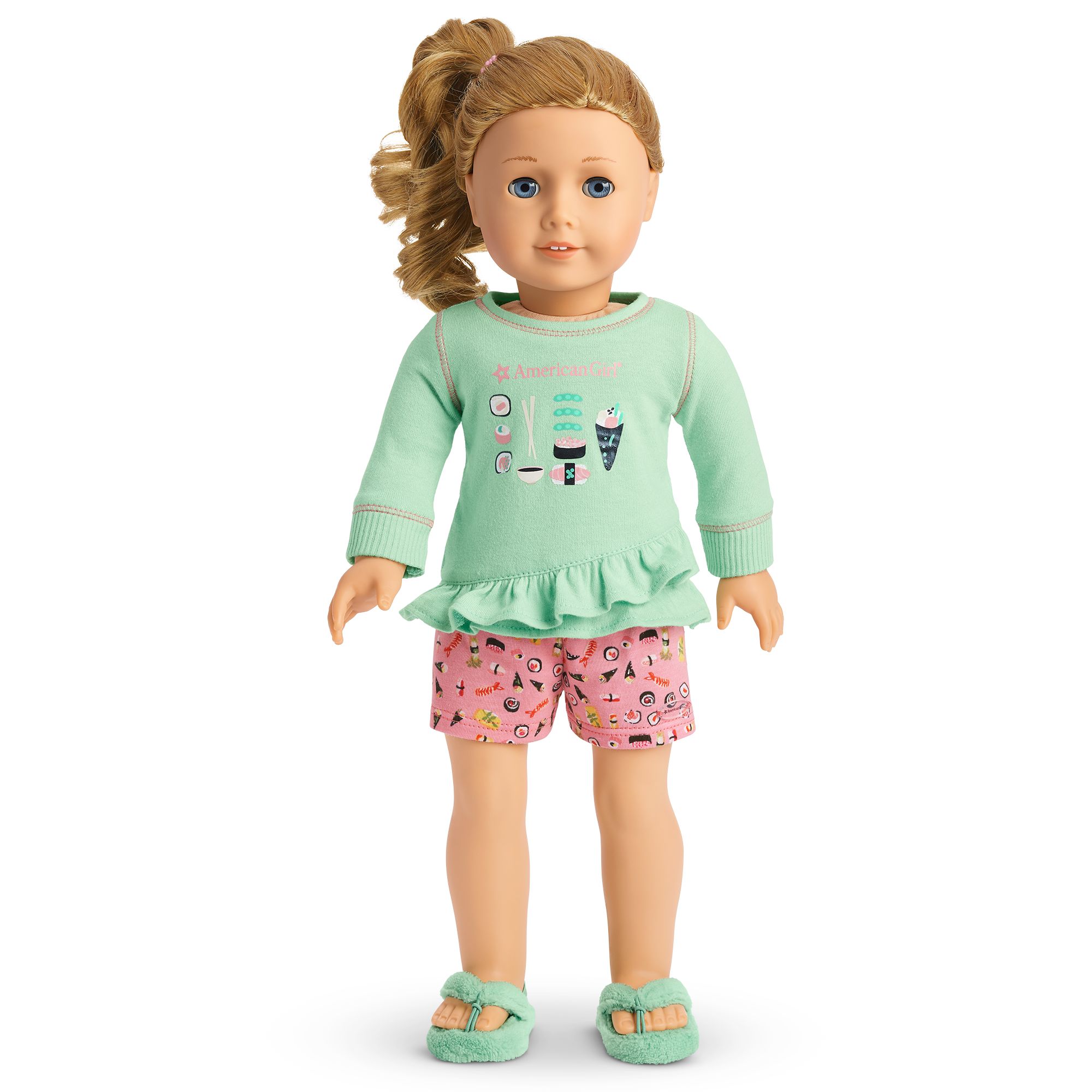 That's How we Roll PJs- 24$
I love these PJs and if I needed more pyjamas, I would probably buy these. They have super cute little shorts with sushi on them and I love the colour scheme. Plus, I think the outfit is cheaper then what it'd normally by nowadays. So yes, definitely worth your money.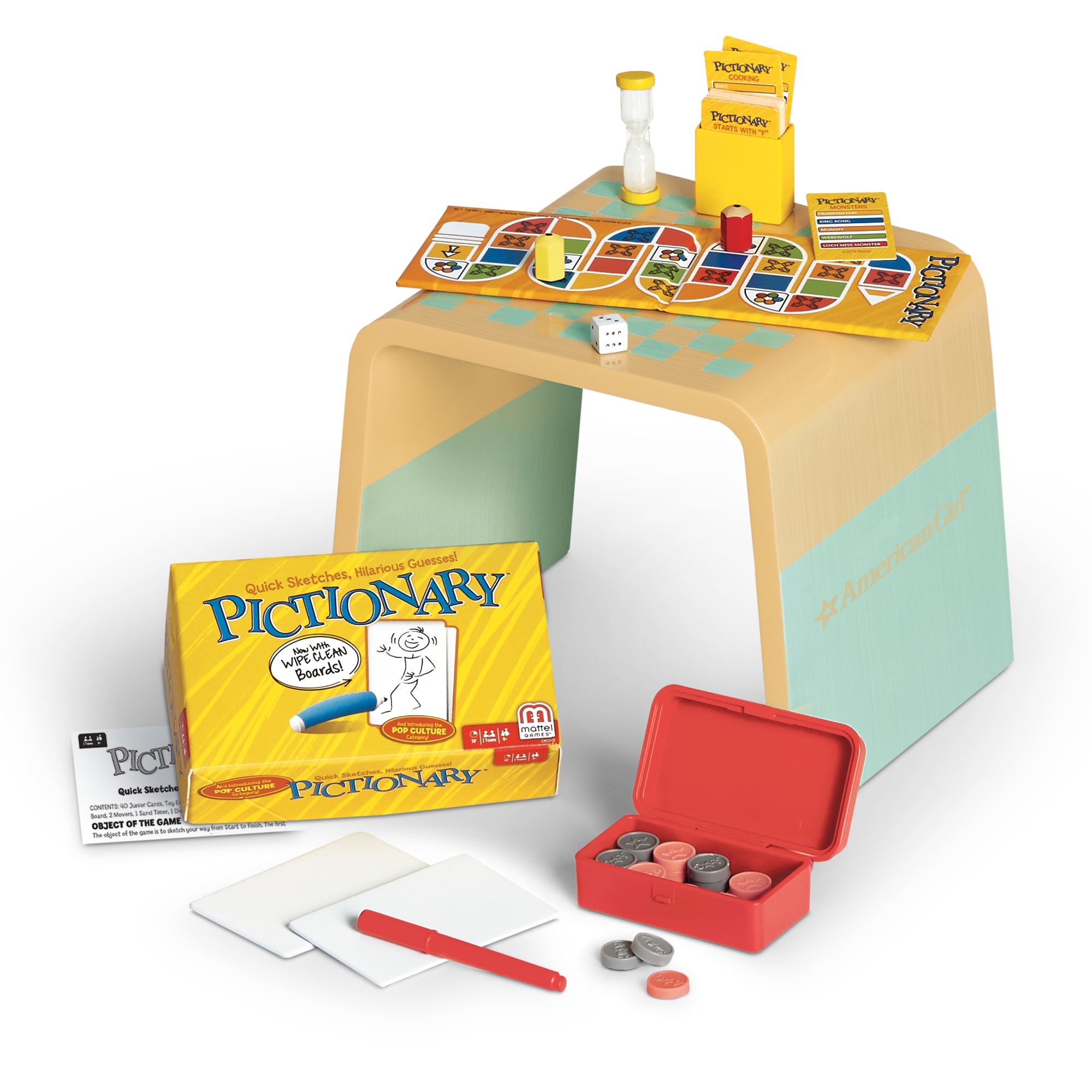 Game Night Set- 25$
I feel like American Girl is trying to lower the prices on several items, but still, it's overpriced. But I guess that all those pieces would be hard to stumble across so it's worth your money.
Xbox Gaming Set- 50$
First off, let's lay it down. That is a waste of your money. I don't know anybody who's going to spend that much money on a doll chair (which they can't sit on properly) and a little doll thingy. The disk stereo projector item. I think it's a cool idea and AG is trying to get the whole gaming fad that's going around. But it's just overpriced.
Skate Park Set- 100$
This is actually really neat and cool, but I don't have a need for it. Though to anyone else, I think this wouldn't be a waste of money as it does come with a bunch of things and the idea is different than the normal stuff they come out with.
The Good Vibes Skate Outfit- 32$
I love this set and I wouldn't mind if you sent me this at all. Though it'd be creepy if you know where I live. But I love everything about it. The blue Toms, the shirt, and the vest. But I especially love the hat. I love those kinds of hats and they fit the doll really nice. So yes, this is worth your money.
Star Gymnast Outfit- 32$
I feel like this outfit is similar to other ones that American Girl comes out with and they all look the same. But I do need some proper gymnastic leotards for my dolls and the little hand grips are a nice touch. But for 32$ I think is a little much if you can find one from Our Generation that you like just as much. But yeah, I guess this is worth your money.
And that is all I'm going to do today. I hope you have a great day further! Stay tuned for a special photo-story coming up.
-Carlye